Available in June, 2014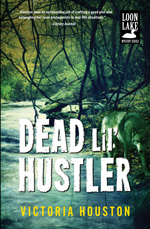 Available NOW!

DEAD LIL' HUSTLER is now available in bookstores and on line everywhere. Early reviews have been excellent. Here's is one from PUBLISHERS WEEKLY:
Small town police chief Lewellyn "Lew" Ferris has to deal with the same problems faced by urban communities, though with much fewer resources, as shown in Houston's pleasing 14th mystery set in Loon Lake, Wis. (after 2013's Dead Insider). A particularly potent strain of marijuana has found its way to Loon Lake, but a more serious problem is the discovery of banker Peter Corbin's body in the Pine River in nearby Nicolet National Forest. Then a distraught father, Jake Barber, implores Lew to help find his college-age son, Liam, who disappeared in the area while fly-fishing a small stream. Lew can count on boyfriend Paul Osborne for help, while bumbling mayor Ed Pecore and bossy FBI agent Alan Strickland complicate her investigation. Houston knows both her territory and her characters well, and she uses both to good effect in advancing her nicely executed plot. Agent: Martha Millard, Martha Millard Agency. (June) Reviewed on 04/18/2014 | Release date: 06/01/2014
Also, my publisher, F&W/Tyrus Books, has just published new editions of all the earlier books in my Loon Lake Mystery Series. If you wish to order any, please call their Consumer Division at 800/258-0929.
Hope you enjoy DEAD LIL' HUSTLER!
---


Booklist gives DEAD INSIDER
an excellent review:
During an August flood, pieces of Wisconsin candidate for U.S. Senate Jane Ericsson's dismembered body are found wrapped in butcher paper traveling down a swollen waterway near Loon Lake, Wisconsin. With the assistance of her close friend, retired dentist Dr. Paul (Doc) Osborne, Loon Lake Police Chief Lewellyn (Lew) Ferris investigates as a media circus descends around them. Suspects include an environmentalist who was trying to bribe Ericsson and a longtime friend with whom Ericsson had a recent falling out. Soon another dead victim is found. With Ericsson's campaign manager acting oddly and a large amount of money missing from the deceased's campaign fund, Ferris and Osborne have numerous avenues to pursue before they identify the killer.
Framed by the developing romantic relationship between Doc and Lew, the story is populated with sympathetic, well-drawn main and secondary characters who epitomize the importance of friendship and neighborliness. Houston also delivers beautiful descriptions of the bucolic setting, along with plenty of sharply rendered fly-fishing scenes. --Booklist
---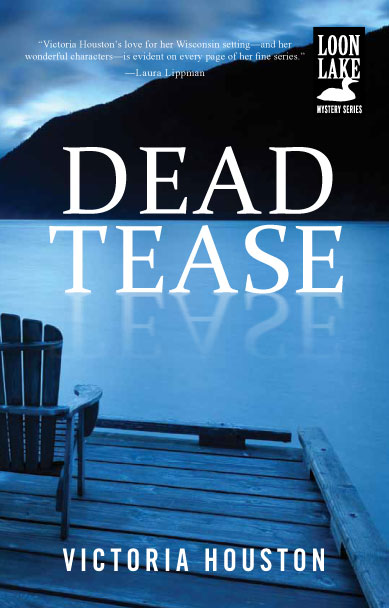 A hot August afternoon and Midwest Clinic CEO John McNeil has been working late. Working on his latest conquest, that is. Jen Williams is twenty-six, in charge of graphics for the hospital's PR division—and quite attractive in a healthy, athletic kind of way. She is quick to laugh and a little too quick to fall for guys. She is no virgin. And she is one of three women—including his wife—intimately familiar with McNeil.
When Jen's youthful body is found with a single stab wound through the heart, suspicion falls on both McNeil's wife, who insists she is being stalked, and the striking hospital physician with whom he had just ended an affair. Pressure to find the killer falls on Loon Lake Police Chief Lewellyn "Lew" Ferris and Dr. Paul "Doc" Osborne, the retired dentist and forensic dental expert whom she has deputized to help with the investigation—when they are not taking a break for fishing and other personal pursuits. When the mayor demands Lew take early retirement—and Doc has to babysit his teenage granddaughter who won't stop texting—the frustrations mount.
Desperate for a few hours off—and persuaded by Ray Pradt (a fishing guide who wears a stuffed trout on his head, so they should have known better)—to try fly fishing from kayaks, Doc and Lew find themselves in life-and-death straits on the river. This leads to an unexpected and macabre discovery that just may break the case.
---
It's late January in Loon Lake and bodies abound: a woman on snowshoes has been discovered wedged under a wooden bridge on a cross-country ski trail. A day later, Police Chief Lewellyn Ferris interviews a couple who alleges that the wife, a former nun, is being stalked. Meanwhile, Loon Lake is hosting an International Ice Fishing Festival with problems.
Check out the Dead Deceiver promotional video!
---
DEAD RENEGADE, the 10th book in the Loon Lake fishing mystery series, is now available.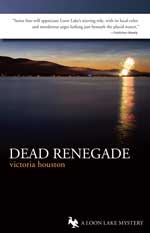 ---
"Houston wants to make you dash for rod and reel."
–– Orlando Sentinel
DEAD HOT SHOT
"Victoria Houston's love for her Wisconsin setting - and her wonderful characters - is evident on every page of her fine series. Loon Lake is a great get-away, even if it does keep me up at night." Laura Lippman, author of What the Dead Know
Hardcover/$24.95/978-1-932557-73-2
Paperback/$14.95/978-1-932557-74-9
Evidence Collection/$45.00/978-1-932557-75-6
Murder never takes a holiday... or so Loon Lake learns one wintry Thanksgiving Day. Chief of Police Lew Ferris, short-handed thanks to an AWOL coroner, never even gets the turkey stuffed before the bodies start to surface. By the end of the day, credit card theft and dysfunctional families have so muddied the waters that not even expert tracker and dedicated fishing guide, Ray Pradt, can hope to fish the final day of muskie season. And while retired dentist, Doc Osbornse, had counted on sitting by the fire with Lew (out of uniform) and planning a fly fishing trip to Wyoming--the unexpected arrival of Gina Palmer, former investigative reporter turned forensics database expert, ramps up the action with her pursuit of a Canadian link to the theft of merchandise from stores across the upper Midwest. Dead Hot Shot , ninth in the Loon Lake Mystery series, is a heady mix of murder, mayhem and fishing in the northwoods of Wisconsin.
Purchase Dead Hot Shot
More information at Tyrus Books
More information on Victoria's other books ...
News:
New Publisher
F&W/Tyrus Books, has just published new editions of all the earlier books in my Loon Lake Mystery Series. If you wish to order any, please call their Consumer Division at 800/258-0929.
They are also pleased to announce all the books in the Loon Lake series are available as eBooks, in print and as audio downloads from audible.com.
eBooks
Victoria is pleased to announce that all the Loon Lake Mysteries are now available as eBooks for the Kindle, the Nook, the iPad and the Reader WiFi. You can find them at Amazon, Barnes & Noble, iTunes and Sony.
Listen to Wisconsin Radio Personality Larry Meiller's
2008 Interview with Victoria 2007 Interview with Victoria
-- More about Larry Meiller
"MYSTERIES WITH A HOOK: AUTHOR VICTORIA HOUSTON" ... talks about the lure of rainbows, brownies, muskies and murder. A Talk of the Nation NPR broadcast from Wausau, Wisc.
From the Wall Street Journal:
"Eccentric Sleuths, Off-Stage Murders And Very Little Sex, Must Be a 'Cozy... .'"


"Victoria Houston writes fishing mysteries set in the fictional Wisconsin community of Loon Lake. Her heroine is a police chief who is also an ardent fly fisherman. With the help of a retired dentist, she solves murders. In Loon Lake, eccentrics are welcome, including Ray Pradt, a local guide and champion loon-caller who wears an earflap leather cap topped by an enormous stuffed trout. ... . "
Wisconsin - Stories of Water
Excerpts from an interview with Victoria Houston

Resort Camp 1
Resort Camp 2
Resort Camp 3
Connection 1
Connection 2
Connection 3
Connection 4
Connection 5
Fishing 1
Fishing 2
Shoreland
Rivers 1
Rivers 2